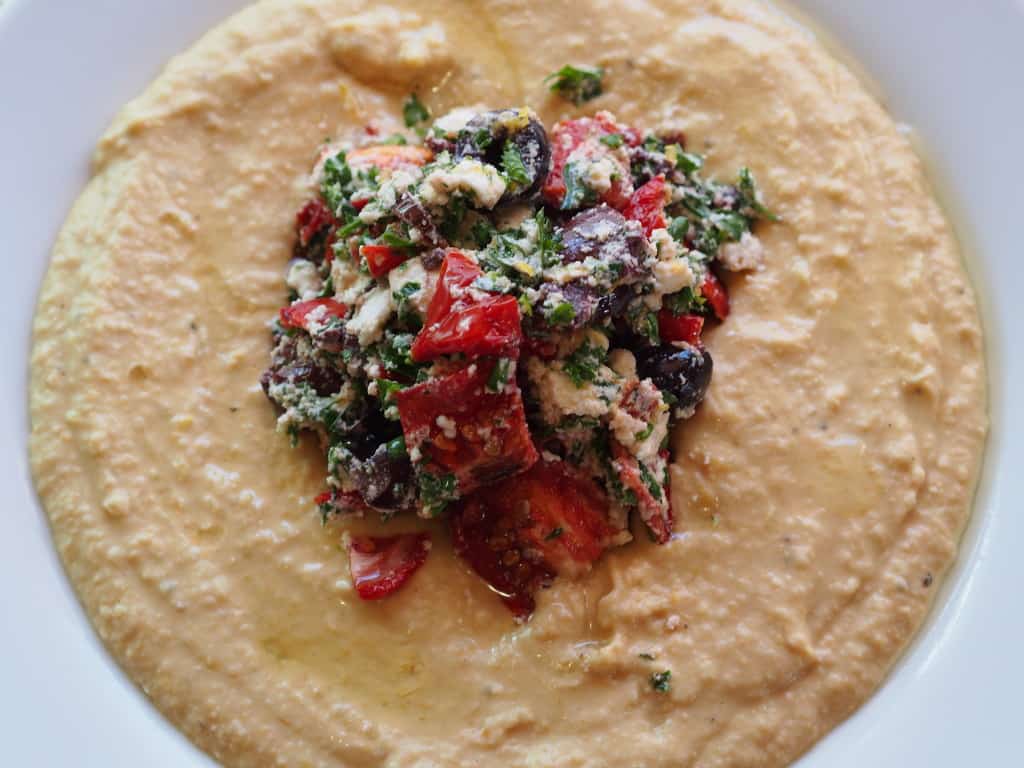 Sun Dried Tomato Relish with Hummus is what is on my plate today. I wasn't sure what to call the Sun-Dried Tomato concoction- so it's a relish! Yep, a relish. If you have a better word please let me know! I get a brain fog trying to figure things out like this! It's a 40's thing...
 Anyway, it's a hot summer here in Colorado and as far as I know its been hot everywhere this summer around the country! Uggh, when its hot outside, I'm just not a big eater and find myself eating light. I needed to put something together for a party a few nights ago and with something simple and light on my mind, I made this Sun-Dried Tomato Relish with Hummus. Delish! 
I had a ton of the sun-dried tomatoes in the fridge from the last post, so I used those for this recipe. If you don't have sun-dried tomatoes lying around... the store bought ones are just fine. Try to buy the un-seasoned varieties if possible! There are a lot of flavors going on already! I hope you try this. Is fast to make, vegetarian, gluten free and just plain good. No guilt in eating this! Enjoy!
Sun-Dried Tomato Relish with Hummus
Tasty relish made of light summer ingredients. Super easy to assemble and to add to just about anything. Try on top of hummus served with pita. Stuff inside of a chicken breast. Add to an omelette or a quiche.... The sky is the limit on this! I included a recipe for hummus. Both recipe's are easy and come together quickly!
Ingredients
1 cup sun-dried tomatoes diced
½ cup kalamata olives chopped
1 bunch fresh parsley chopped fine
4 oz feta cheese crumbled
zest of one lemon
½ cup olive oil
Hummus
2 cans garbanzo beans, drained (reserve liquid)
2-3 garlic cloves
¼ cup tehini (Sesame seed paste)
juice of one lemon
zest of one lemon
½ tsp salt
½ tsp pepper
½ c olive oil
reserved liquid from beans
Instructions
In a medium sized bowl, mix together tomatoes, olives, parsley, lemon zest, cheese and olive oil. Serve immediately with hummus or transfer to an air tight container and store in the refrigerator for up to a week.
Instructions for Hummus:
In a food processor place beans, garlic, tehini, lemon juice and zest, salt and pepper. On high speed blend bean mixture and add olive oil and about ¼ cup of bean liquid. (This can be adjusted depending on the consistency that you like).
Serve immediately or put in an air tight container and store in refrigerator for up to one week.