So as the summer progresses and I stop freaking out the it's already August, I start thinking about next spring's planting season and that I will ONLY plant one zucchini! I can't give them away fast enough. With all the rain that Colorado has been getting, the zucchini grow about six inches over night. It's nuts. Everything else is pretty slow because it's been so cool. Good for the electric bill but no so good for the vege's!
For some reason, in the summer, it's hard for me to think about cooking and writing recipes. I do it anyway because it's my passion but it's more like, "what do I have in my fridge and what can I throw together"! This zucchini and pesto stack is exactly that. Something that I threw together and it doesn't even require a recipe! Gotta love that, right?
Here is how it came together. I sliced a zucchini into one inch thick slices. I coated them with olive oil and salt and pepper and put them on a hot grill for about five minutes per side or until they are nicely grilled.  Then this is the fun part. I laid out a slice of zucchini and topped it with about two tablespoons of ricotta cheese and homemade pesto.  I did this a couple of times until I had a nice stack of yum and added some more pesto and finished it off with fresh Parmesan cheese. It's great served hot or at room temperature.  See a no recipe dinner! Gotta love that!
Last weekend, I needed a little get away to the mountains. It's a short hour and a half drive to be in the heart of The Rockies. I chose to go the long way to Fairplay via Summit County. My favorite bar in the state is the Tiki Bar in Dillon. It is located at the Dillon Marina and is the only bar that I know of that is actually on a large body of water in Colorado. Its absolutely stunning. You gotta try it if you are in Summit County in the summer. The food is great and the craft beer is better. If you are lucky enough, sailing on Lake Dillon is a experience that I wish everyone could have. It's so amazing to be on the lake surrounded by mountain ranges on all sides. You feel so small in the grandeur mountains. Pretty spiritual if you ask me!  Check it out!
After a cold beer, a great lunch and catching up with an old friend from my days of living in the mountains, I headed out through Breckenridge, over Hoosier Pass, through Alma and into Fairplay or "South Park" as it is commonly referred. I love this part of Colorado. This area is this massive high plain surrounded by many "Fourteeners" and thirteen thousand foot mountains. Some of my greatest friends on the planet live in this special place. They have this great piece of property called Bristle Cone ranch. It's just lovely. They have this amazing green house that they get fresh produce all year long and the hens. Lot's and lots of chickens!
Our main objective was to go hiking on their property and in the Pike National Forrest hunting for mushrooms! It's been so wet up there that the mushrooms are abundant. In fact, they are everywhere. We had a successful morning as you will see! Enjoy "Colorful" Colorado as I did!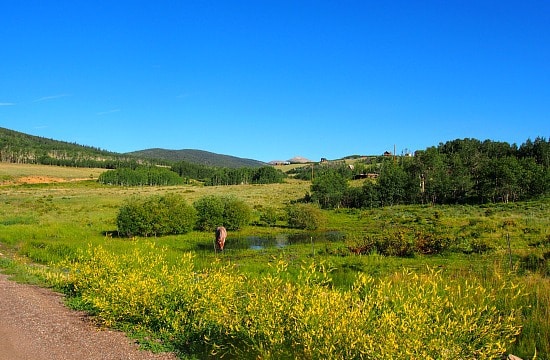 Fairplay, Colorado is really high in elevation. 10,000 feet up! I'ts nickname is "South Park", you know the TV show? Loosely based I'm sure!