You won't believe it but guess where I am? You will never guess! Bullfrog, Utah. Yep, the town of Bullfrog. I'll tell, it's funny where you will end up when you travel and today's end point takes the cake with funny town names.
I'll tell you more about this trip in a future post but a quick preview. This has been the most remote trip that we have taken yet! Three days off the grid completely! Wow! Peace and quite does exist.
Easy Meals
When we are traveling, I always try and come up with meals that are easy to make in the RV or over the fire. Being able make meals both ways is important as cooking over the fire cooking can't always happen (as last night on Lake Powell, 50 mph winds prevented us from having a fire)! So, I am glad that I have options!
Easy Meals
Asian Lettuce Wraps (check out an older post) are really easy to make and packed with huge flavor! I also love that they are wrapped up in lettuce so that you are not bogged down with a lot of extra carbs! Lettuce wraps are a staple for me even when I am not camping!
This round of chicken lettuce wraps I decided on giving a little more of a Thai flair and added a bit of peanut butter to give it a little extra richness to the mildly spicy sauce (you can certainly spice it up more if you like). It made it so over the top delicious, that I had to make it twice because it disappeared so quick the first round!
It really is a quick and easy weeknight meal that's super healthy and flavorful. So easy in fact, you can make it in an RV! Lol!
One Pot Meals are the Best!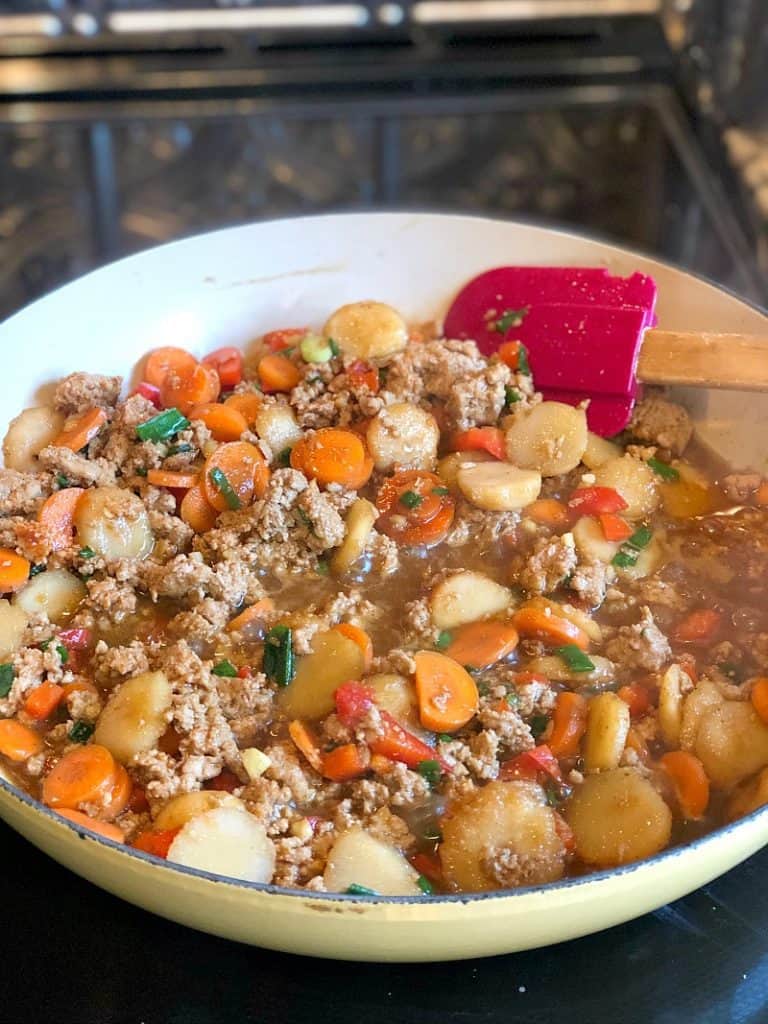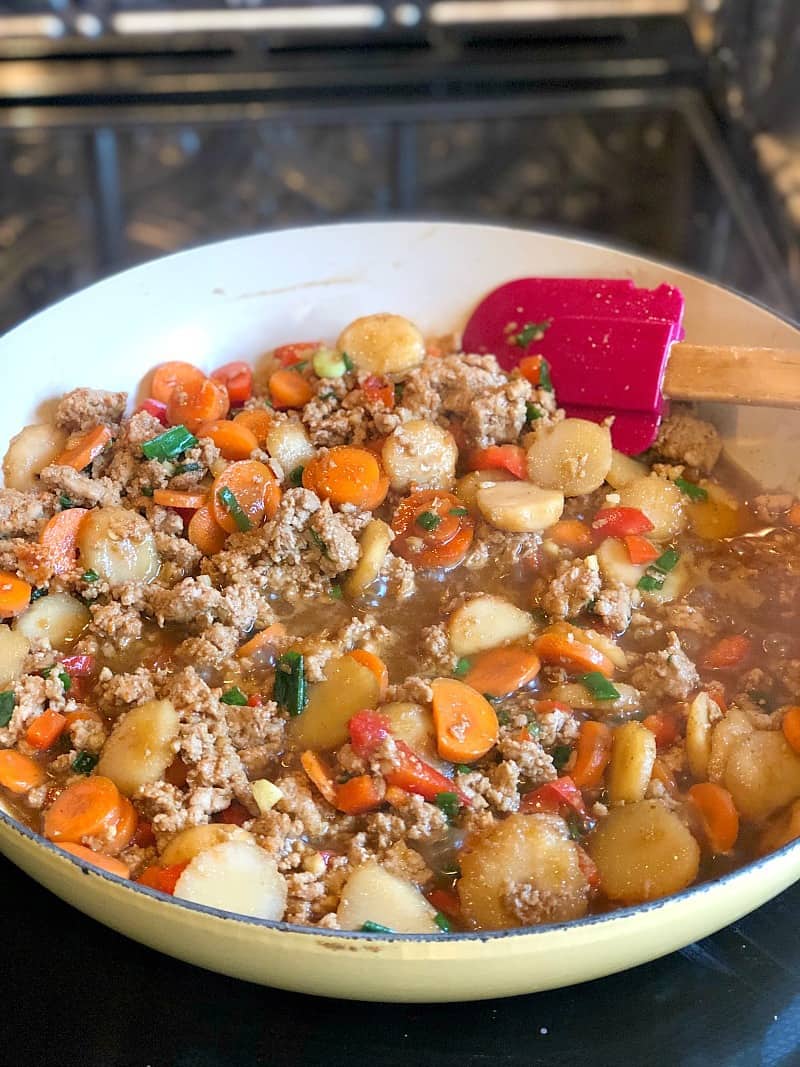 Boy, that looks tasty! It's just about time to remove from the heat to thicken the sauce!
Are you looking for other easy weeknight chicken meals?
These recipes are sure to please!
Thai Chicken Lettuce Wraps
Thai Chicken Lettuce Wraps are easy to make and incredibly delicious. Jazz up your weeknight meals with these beauties!


Ingredients
2

tablespoons

canola or vegetable oil

1

pound

ground chicken or turkey

1/2

cup

diced onion

1

tablespoon

minced garlic

1

tablespoon

minced jalapeno (optional)

1

red pepper, diced

3/4

cup

sliced carrots

1/2

cup

sliced or diced water chestnuts

3/4

cup

chicken stock

1/4

cup

hoisin sauce

1/4

cup

low sodium tamari or soy sauce

1-2

tablespoons

sriracha sauce (depending on how spicy you want it)

2

tablespoons

smooth peanut butter

2

teaspoons

sesame oil

1/4

cup

chopped peanuts

1/4

cup

chopped fresh cilantro

1/4

cup

sliced green onions

1

bunch

green or red leaf lettuce
Instructions
Heat a large saute pan that has a lid over medium heat. Add the oil, ground chicken, onion and garlic and cook until the onions become translucent and the meat is beginning to brown. This will take about 5 minutes.

Add the red pepper, carrots and water chestnuts and cook for another 3 minutes.

Stir in the chicken stock, tamari, hoisin sauce, siriacha, peanut butter, and sesame oil until well combined with the other ingredients. Cover and cook for about 10 minutes until the sauce begins to reduce.

Remove the lid and turn off the heat. Add the peanuts, cilantro and green onions.

While the filling is cooling, remove the end of the lettuce and pull apart the individual leaves. Set aside.

Let sit for 10 minutes before scooping into lettuce leaves for serving.

Add additional peanuts, green onions and chopped cilantro if desired for serving.